A
s you know, I'm pretty passionate about journaling. So much so, I published two books of my journals. I often get asked how to get started journaling and what to write about, so I'm proud to introduce The Transformation Year, a new year-long email series with a daily journaling prompt.
The science is clear. Journaling offers a host of benefits.
According to mental health professionals, journaling is one of the most recommended tools to have a clearer mind and a happier life. Journaling has been proven to provide all these benefits and more:
Reduce anxiety and stress
Regulate emotions
Strengthen memory
Solve problems more efficiently
Increase self-awareness
Speed up physical healing
Boost happiness & positivity
Find more inspiration and be more creative
Become more mindful
Gain self-confidence
Set and achieve goals
Track progress and growth
But what do I write about?
The problem most people have when it comes to journaling is knowing what to write about. Starting at a blank page or screen can be so overwhelming, you may not know where to begin.
The key to a successful journaling practice is making the question of "what do I write about?" as simple to answer as possible.
You can do that in a number of ways:
Through journaling prompts – Journaling prompts offer a great starting point by asking questions to help you get writing.
Getting into a mindset for introspection and reflection – Our "everyday" operating minds may need to switch into a different gear to journal. Having a specific place, time of day, or ritual that helps get you into "writing mode" may help.
Developing your own unique approach to journaling – Journaling is an avenue of self-expression that has no rules or guidelines. Write, draw, add photos–just capture whatever is on your mind.
Over the past eight years, I know both the reward and challenges of keeping a journal. If there's one thing I've learned, it's that having a daily reminder that inspires and encourages journaling is key to success.
The Transformation Year Will Help You Keep a Journal
The Transformation Year is a year-long email series with daily journal prompts to guide you through the two proven types of journaling, along with inspirational quotes and an emphasis on being mindful throughout your day.

The Transformation year is designed to help you know what to write about, offering you a choice of several prompts:
An inspirational quote to help you get in a thoughtful, reflective mindset.
Expressive writing topics to help you express what's on your and in your heart
Gratitude focus questions to help you become more aware of all the good things in your life each day
Mindful reflection exercises to help you anchor to the present and be more aware of your day as it unfolds.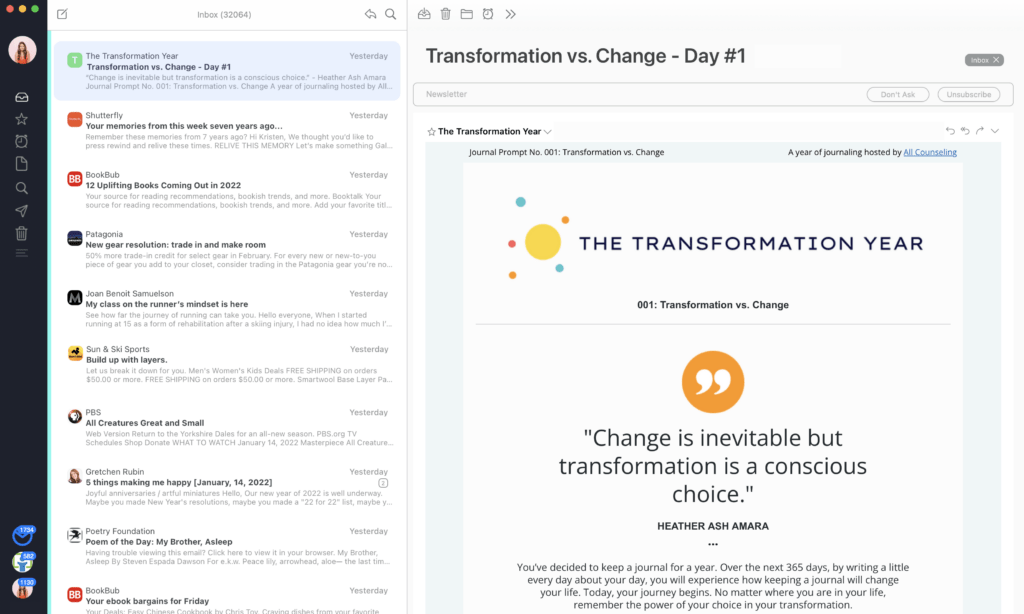 Why I Developed The Transformation Year
Ultimately, The Transformation Year is the resource I still need. Toni Morrison said, "Write the book you want to read," and I took that to heart.
I wanted to distill everything I've learned about journaling on a daily basis into something I could use personally. But knowing that it might benefit others, too, has given me the determination and resolve I've needed to finally get it written.
What If You Kept a Journal for a Year?
How might keeping a journal change your life? With all the proven benefits of journaling, which ones do you need the most?
The Transformation Year is designed so that you can begin anytime, on any date. So sign up for the daily email today. I truly hope it will be a transformative resource as you start or continue your journaling practice.